The European Garage Equipment Association aisbl was formed in 1980 and regroups 11 national professional associations and 2 companies representing the interests of both manufacturers and importers of garage equipment.
EGEA objective is to ensure that its associations' members can provide the best equipment and service to the automotive aftermarket by striving to keep members up-to-date concerning new vehicle technologies and legislative and standardisation requirements and thus be competitive in the garage and test equipment supply, service and calibration industry.
EQUIP AUTO ON TOUR'S DATES AND VENUES IN 2021
From 25 September to 30 October 2021, "EQUIP AUTO On Tour" will be held in cities all over France, with six regional meetings dedicated to mobility services and vehicle after-sales professionals, in the run-up to the next edition of EQUIP AUTO in 2022 in Paris.
Dates and venues in 2021:
Avignon – 25 September / Nantes – 2 October
Lille – 9 October / Toulouse – 16 October
Lyon – 23 October / Mulhouse – 30 October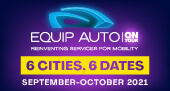 EGEA is proud to present the new EGEA Inside newsletter, where we collect topics of interest to our industry. There will be two editions per year, in summer and winter. We hope you enjoy reading.